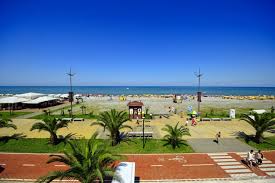 Batumi—the "Pearl of the Black Sea," as it is often called—is located in the autonomous republic of Adjara. European architects undertook numerous projects in Batumi at the beginning of the 20th century, and today it remains a hub of architectural innovation.
General Information about Adjara
One of the most beautiful regions in Georgia, Adjara is situated in southwest Georgia on the Black Sea coastline. Turkey borders Adjara to the south.
Adjara's visitors especially admire the region's pristine and unaltered nature, and it is particularly intriguing for eco tourists.
Anaklia is a seaside resort in Western Georgia. Its coastline stretches 8 km along the Black Sea, and there are several modern hotels. At the western end of the promenade the longest pedestrian bridge in Europe (540 meters!) connects the resort to the village of Ganmukhuri, located on the opposite side of the Inguri River.
Sandy beaches and sunny weather attract several music festivals to the town. As its popularity grows, Anaklia is poised to become the hottest new destination for summer holidays in Georgia.