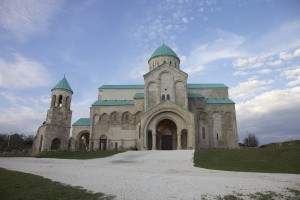 Our current UNESCO heritage sites include the ancient capital city of Mtskheta, the massive cathedral complexes of Bagrati and Gelati, and the mountain region of Svaneti. The construction of Bagrati Cathedral, named after Bagrat III, the first king of united Georgia, started at the end of the 10th century and was completed in the early years of the 11th century. Although partly destroyed by the Turks in 1691, it was recently restored and the church service is held regularly. The Gelati Monastery, whose main buildings were erected between the 12th and 17th centuries, is a well-preserved complex, with wonderful mosaics and wall paintings. The cathedral and monastery represent the flowering of medieval architecture in Georgia. The historic churches of Mtskheta, former capital of Georgia, are outstanding examples of medieval religious architecture in the Caucasus. They show the high artistic and cultural level attained by this ancient kingdom.
Preserved by its long isolation, the Upper Svaneti region of the Caucasus is an exceptional
example of mountain scenery with medieval-type villages and tower-houses. The village of
Chazhashi still has more than 200 of these very unusual houses, which were used both as
dwellings and as defence posts against the invaders who plagued the region.